Well............

First of all, for the month of July, I have been sick with a cold/bronchitis and have not gotten in teh typical mileage i'm used too...only about 250mi, maybe, just maybe, 300mi. Typical mileage for me is 500-600mi/mo. So, I definitely wasn't really ready for this ride, but did it on an impulse....here goes...

The ride started in Traphill, NC, which, per mapquest, was 180mi from Clayton. I went to bed at 10pm last night, got up at 3:45am and was on the road by 4:30am. Arrived in Traphill at 7am. Yes, I was cruising.


Got my stuff ready, rode around for about 20min for a warm up, then went to the start. I have no idea how many riders there were...maybe 200? The ride starts out fairly gentle, but you then make a turn onto another road and begin a 6mi + climb. I had charged my Garmin, but forgot it
so, I can't tell you the grade up the climb. There were several sections that I got out of the saddle to climb - just seemed easier to break it up a bit. Then.....the last part of this 6mi climb was a short (but seemed like friggin forever) climb at 18%.
I wasn't sure that I was going to make it, but there were people at he crest, ringing the cowbell and shouting encouragement, and I made it!

I rode past these people and pulled off to the side, this " " close to puking. OMFG. I don't think I've ridden anything that hard in WNC, save for the Allison Watts climb, which was a lot shorter than this climb. Damn...now, I really didn't feel all that great. But, those knowing wp, know that I was going to continue on....for a while at least.

After resting a bit, I started back on the ride. Unfortunately, I could really tell that I hadn't ridden much by now. I developed a headache from hell and my quads/hamstrings begin to inform me that they were going to start causing problems. It was also pretty much a solo ride...all the fast boys/girls were WAY gone. That also came into play, in my mind at least...I just wasn't in the mood for a solo ride...

Most of the roads were really good, light traffic, great downhills, beautiful scenery. The temps weren't too bad either. Once I reached the first rest stop, I headed out on the BRP. I
riding the BRP. It is a lot different in this area as opposed to the BRP in the WNC area. The vegetation is different, as is the roadway grade. At least for the section I rode on (roadway grade). Did I say that I
riding on the BRP?


A couple more turns, more climbing, more solo riding, stopped to take a few pictures along the way, legs hurting, head hurting....I do wish that dang SAG driver had NOT stopped to ask if I was ok. No, I wasn't, but if he hadn't been there, I would have motored on. But, since he did stop, I decided to catch a ride back in.
Fark. I have to start riding more next week. No, if's, ands, or buts about it.

So, I caught a ride back to the start, changed clothes, got some lunch and headed on home. I know everyone will tell me it's ok (that I bailed again), but to me, it's not. I'm sorry, it's just not. Feels like major FAIL to me. Guess I need to get my ass in gear and do something about that then....

I may try to do this ride next year and, hopefully, I will be in peak condition instead of being sick. I hate being sick.


Here are some pics from the ride...
Sorry, but, there is no wp smile...that climb hurt!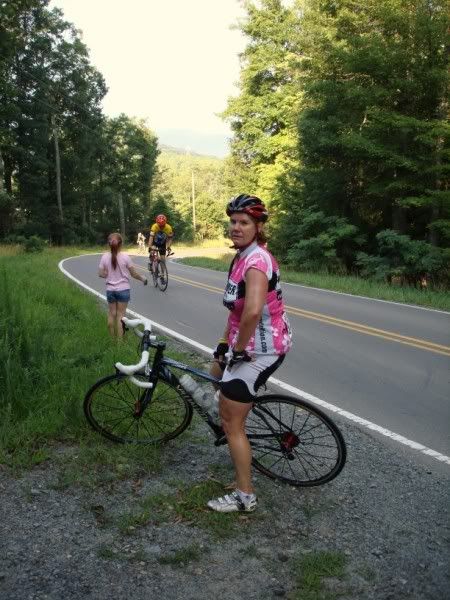 more pics...(the 18% climb - it doesn't look like it from this pic, but trust me...it was!)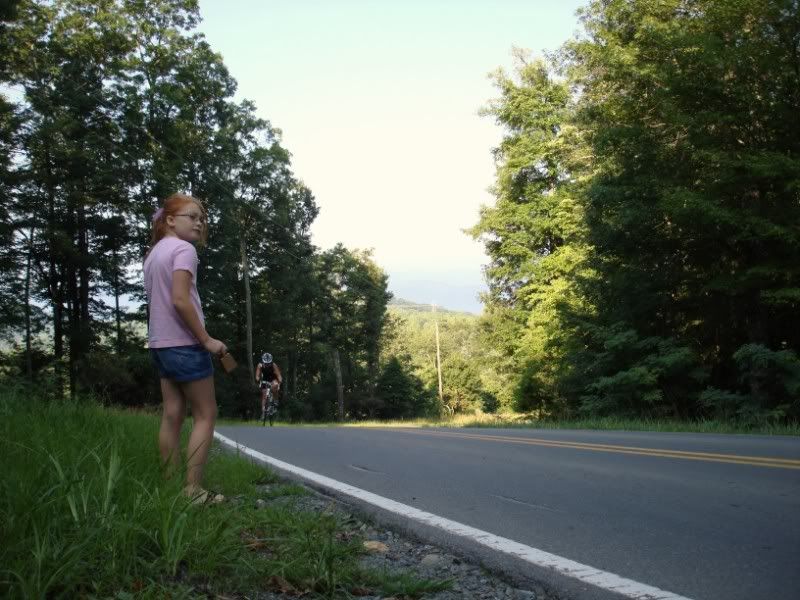 on the BRP: