I had been registered for this ride for quite a while and planned on making a weekend of it...the plan was to get up to Lancaster, PA around 3pm, check-in to the hotel then meet up with some BF folks for an easy social ride of around 18mi. Well, I left the house around 8am, but I had "other" things on my mind and I headed out on I-40W. Where the hell I thought I was going I have no idea (yes I do - I was headed back to G'ville). When I realized my mistake (Jones Sausage Rd) I turned around and headed the right way. For a short time. I get to I-95 and which way do you think I went?? That's right. I went SOUTH instead of NORTH. Sheesh...I should've taken the hint and just went on back to G'ville, but I turned around and finally got headed in the right direction by 9am!!!

One would think that traffic on the weekends around DC wouldn't be too bad. Wrong. From Fredricksburg to past DC, the traffic was awful. Stop. Go. Stop. Go. This was absolutely killing my time and I didn't arrive to my hotel until right at 4pm. Quick check-in, change clothes and hurry over to the Hampton Inn to meet everyone. I brought my fixie for this ride, figuring that 18-20mi would be good on the fixie. I meet 5 or 6 guys from BikeForums, but for the life of me, cannot remember everyone's name....sorry guys.

The Saturday afternoon social ride was very nice...rolling countryside, horses & buggies, cows, corn & tobacco. Big gardens too. I /love/ big gardens & fresh veggies - those reminded me of my grandmother's gardens. No trouble riding the fg either, except one little hill that was a bit steep, had to stand to climb it - otherwise, no troubles.

I was hoping to meet up with one of my good friends (& his wife) from BF on Saturday but it just didn't work out. They were late getting to Lancaster and missed the ride, but left a msg on my voicemail that they made it and hoped to get together that evening. Didn't happen. By the time I got back from the ride, showered, changed, it was after 6pm, long lines everywhere I went to find food, except the Pizza Hut next to the motel. /rolleyes/ Ended up there with some pasta & salad, back to the room and made it an early night.

Next morning I met Phil & Jen in the lobby and we headed on over to the ride start. OMG. I haven't been on a ride where there were so many people!!! StupidlyBrave (Jim) was in the same lot as Phil and I, and we met up with the BF members from Saturday's ride around 7:30am. It was a rolling start from 7:30 on, so we headed out shortly after the meet-up and getting a few pictures taken.

Here are the photos I ended up taking. Not too many because I was riding Steve's wheel and we were rolling! No time to take pictures of the countryside. These pictures are from when we stopped..


ok, a few at the ride start and the first rest stop..Phil & Jen in the orange & yellow jerseys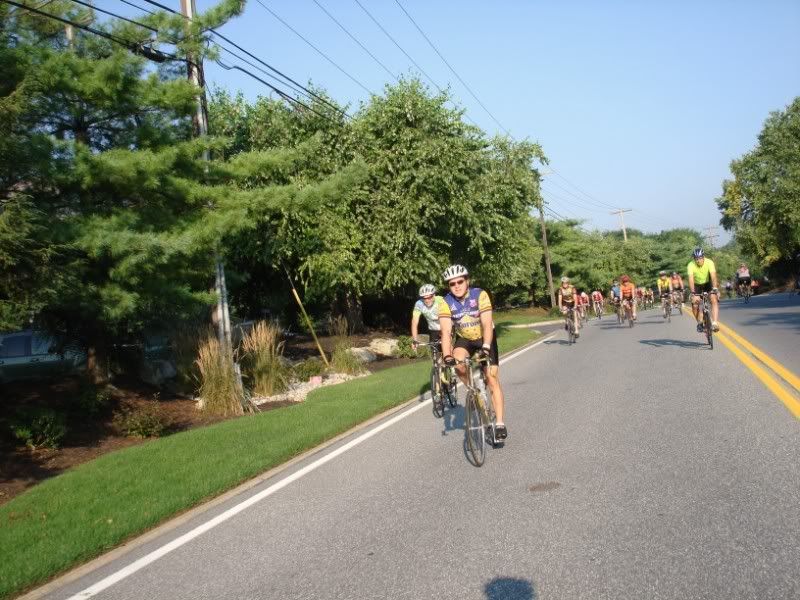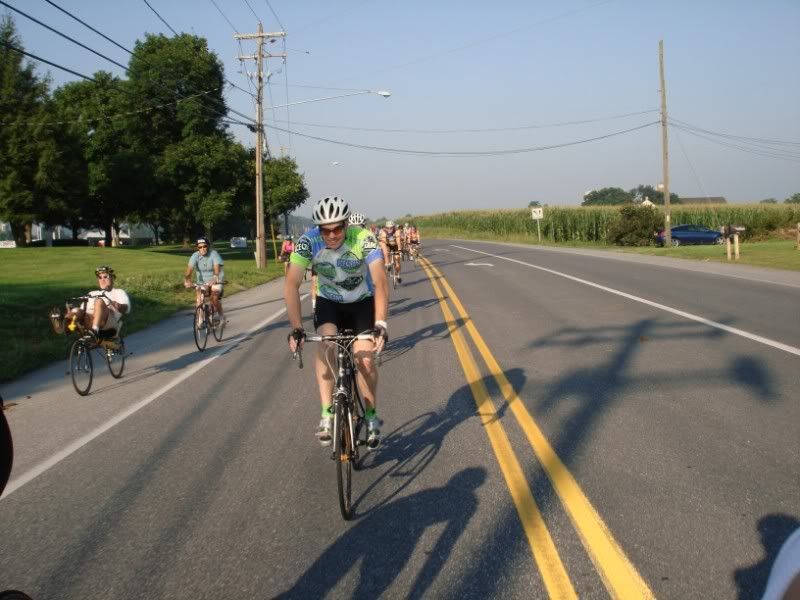 Steve and another BF guy (can't remember name)
Foo Jersey:
Phil (pgoat) and StupidlyBrave (Jim) to Phil's left
at the lunch break today on the Covered Bridge Metric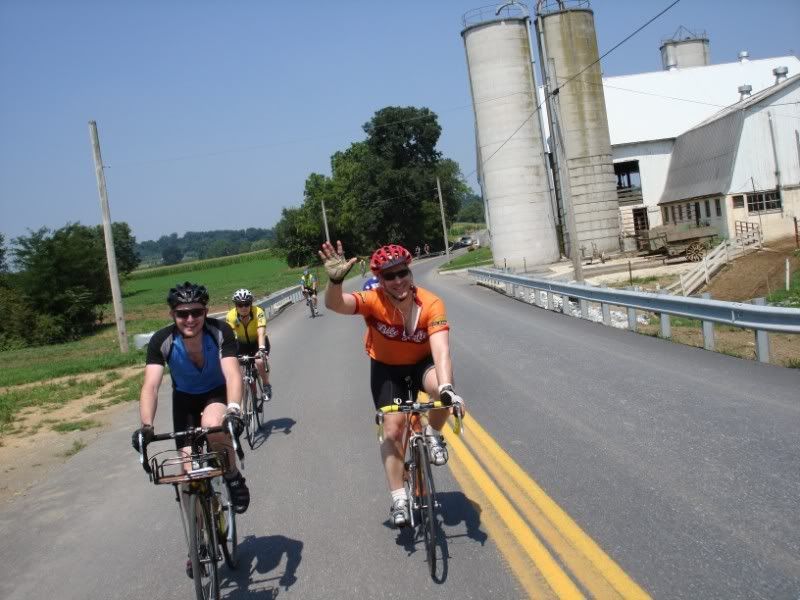 a few pictures by other riders:

the first covered bridge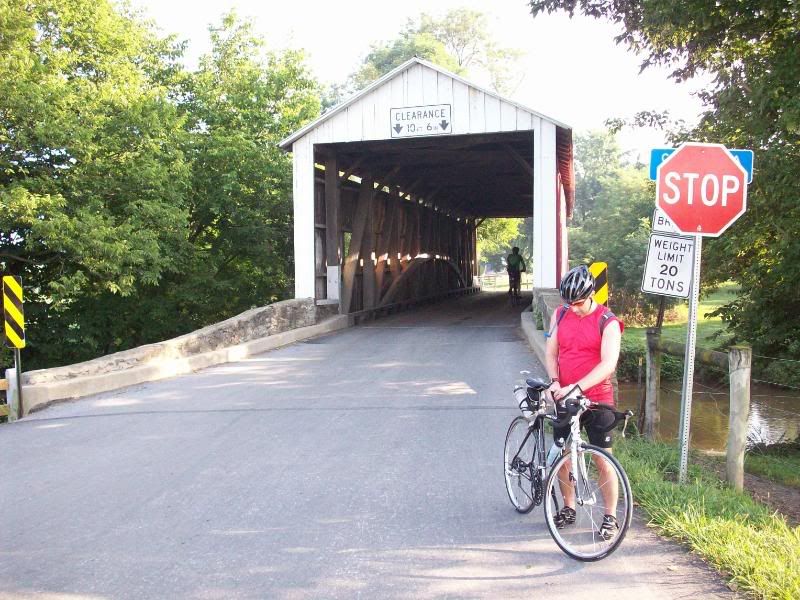 and, Jim brought me a present:
wow....i almost forgot this picture....SB brought something special for me...
Overall, it was a great ride, tons of riders (something like 4100). Lunch stop was great - had Subway sandwiches with the fixins for us. Bad thing though....I sat under the shade tree with the guys at lunch and sat too long. When I went to stand up, both legs cramped something terribly. The outer quad on my left leg and the inner/middle quad on the right. So much pain. I managed to finally get them under control and head out with the guys, but was unable to maintain the pace set by Steve due to my legs.

Jim fell back and rode with me at times, waiting on me at turns and various other spots. I told him he didn't have to do that, but he said it was fine. :) We eventually make it back to the start and despite my difficulties on the last 30mi, I still ended up with a decent average - 63mi/3:45hr/16.8avg. Changed clothes and proceeded to go find the rest of the crowd and have some ice cream!

Later that evening, went out for supper with Phil & Jen to a local brew pub. Great greasy cheeseburger and about half of some kind of beer. Don't remember what it was, but everything tasted great!

Packed up the next morning and headed home around 10am. I initially thought I would try to take a different route home because of all the traffic encountered coming up, but changed my mind. I-95 straight home and in 5.5hr. Very glad to get back home. I think my next vacation/trip will not involve an automobile.....thinking that I'm going to do any traveling on my bike.

So....overall, I had a great weekend but, I doubt I travel 400+mi to do a 63mi ride anytime soon....