This past weekend, I had a trip planned with one of my friends from the Atlanta area. He wanted to hike the Coosa Backcountry Trail in Vogel State Park, Georgia. I mentioned that I would like to do something like that and he asked if I was interested in joining him. Sure, if you are sure you don't mind the company. He didn't, so we made the plans....
Below is a quote from him about the trip (he's not the long-winded writer I seem to be at times).
---
Well, the trail proved to be tough. We hiked to the halfway mark and decided to cut it short. Came down a forest road and managed to get caught in a total gully washer...omg, the rain was coming down! So the map got soaked and basically was useless.....we soldiered on. Took a wrong turn and just kept going. I think we hiked pretty close to 15 miles total. Found someone to give us a ride in the back of their truck. Was very glad to get back to the park.....now I'm resting and nursing the blister on my right foot.
WP is quite the hiker....not that I'm anything impressive, but 15 miles in one day is a long assed hike!
I'll add a bit more detail to MV's ripped post...
Hmmm, I didn't think the trail was too terribly tough, but tough none-the-less. I think our biggest problem was not having a good topo map and/or corresponding profile map. We thought we were further along based on the profile map, but while stopped at lunch (after 3hr of hiking), we looked the topo map over and realized that we were NOT where we thought. Not quite to the half-way point.
So, realizing that we had quite a ways to go, it was a bit depressing....it seemed like the next climb after lunch was harder - maybe it was, maybe we're just out of hiking shape, but we became a bit discouraged and thought that we'd just cut the hike short by taking the forest road. Maybe about 9-10mi total hiking (had we taken the correct direction at the intersection of the 2 forest roads).
So, we get to the intersection of the 2 forest roads. Due to the inability to read the topo map after it got all wet - we chose to head to the left. Should've gone right.
We walked and walked and walked. At one point, after stopping at a campsite to rest, MV said he was about ready to just pull the compass out and head cross country. He knew in what direction the park (main part) was, so we "could" do that. But, we didn't. Soldiering on...
OMG....'twas a gully washer about 30min into our short cut!! Stopped to put our rain covers on the packs and soldiered on. My camera was in a shorts pocket and got wet (even though it was in an unzipped Ziplock
). I think MV's phone got messed up too. I had water sloshing around in my boots, we were totally soaked. I just wanted to finish....miserable with water sloshing in my boots. I'm glad I had sock liners (Wigwam Gobi) on, otherwise, I think I would be nursing a blister or two also...
After about 2hr from the diversion to the forest roads and going mostly downhill (and thinking we'd just die if we had to turn around and hike back UP the way we'd came), we came upon a campsite with some guy camping. We had decided that we had had enough, especially getting caught out in the gully washer, that we would try to hitch a ride back to the park. 1st guy turned us down cause he'd been drinking. Told us where to find the trail....duh. We know where that is and it's at least another 4mi hike on the trail plus what we had left to get to it. Fortunately for us, a big redneck Dodge truck came along and they gave us a ride back to the park.
I was so glad to get back to the park and get out of those damn wet socks & boots. My feet were like prunes - all wrinkled.
I did have a great time and don't let MV fool ya...he's quite the hiker too! I would really like to go back and complete this trail. Yea, it's quite a drive, but I want to finish it. Not sure I can do it in a couple weeks, but the fall would be a really good time - maybe less leaves and more views from the ridge tops. Dang!! I had a great time!! Already thinking about when/where I can go around here or towards the western part of the state.
Gotta get my butt into hiking shape (as does the bf) so we can do the Foothills Trail this year or next together.
I unpacked everything from my pack this morning (Monday, July 26) and weighed it as it came out. Pack weight empty=5.6 pounds. Gear into pack=11.3 pounds. Water carried=6.5 pounds. Total pack weight=23.4 pounds. It would have been lighter had I not carried the water, but being unsure of water sources, I felt it best to carry the water. The load did get lighter as the day went on.
Sonny and I at the start of the hike....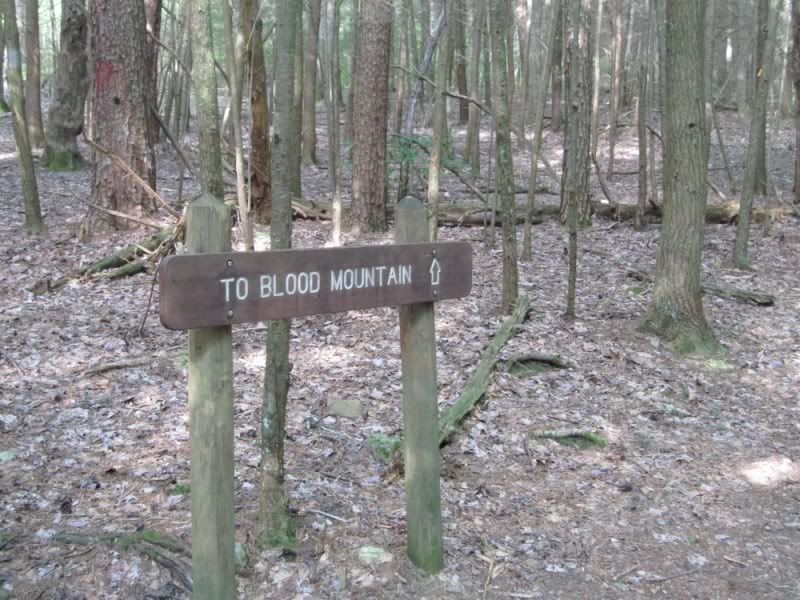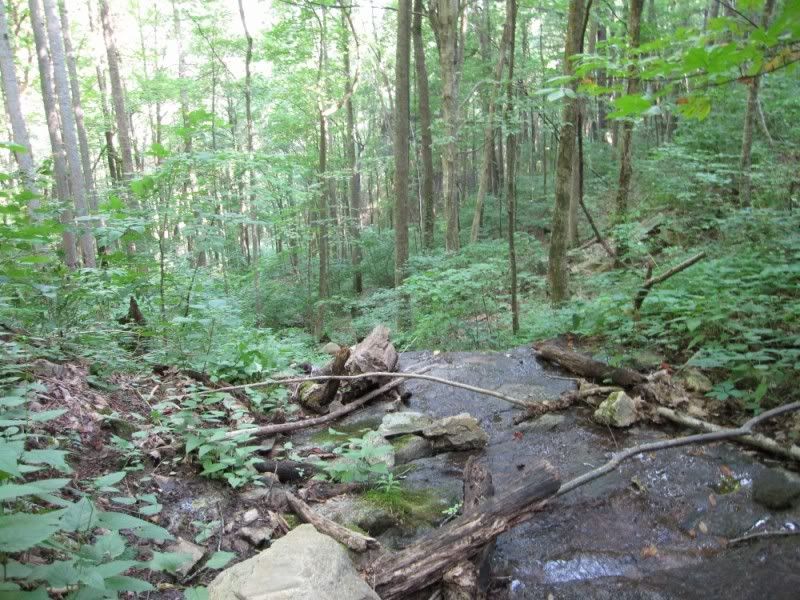 OK....that's enough picture posting for one morning...Here's a linky to the photobucket site.....
I do wish that I had been able to get some pictures while it was pouring down rain....it was a true gully washer! The water flowing down the forest road was, at times, deeper than my boots. I think the majority of the water sloshing in my boots was from runoff from my legs...