That is me.
I had to take care of some family things in Valdese yesterday and upon finishing, I drove on up to Marion. I had hoped to leave my car at the campground and to have Hank come get me and then I stay in Greenville overnight. That just didn't work out - I ended up staying in Marion.
While there for the evening and after a light dinner, I had wanted to ride my bike some, but the weather up on the mountains looked rainy and I really didn't want to get caught out in that. So, instead of riding, I drove. From Hwy70/80 all the way up to the BRP. As I drove, I tried to visualize myself actually riding, where I'd be on the bike as I went around the twisty/curvy last 3.5 miles of Hwy80. As I drove up 80, I felt confident because I have climbed that section at least 4 times, and I kept repeating out loud - "I CAN DO IT!".
I can do this. Yes, it's going to be a bitchin' hard day for me, especially since the forecast is now for rain, but somehow, someway, I have to dig down deep, keep the eye on the prize - The Patch. I want this thing very bad. I've told my Dad what I'm doing and I want to get this & show it to him. I want a picture of me crossing the finish line to give to him. I want it. And, I want it bad enough to endure 27 miles of rain soaked roads to get it. There. I said it. I want it bad enough that I'm willing to ride in the pouring rains to get it.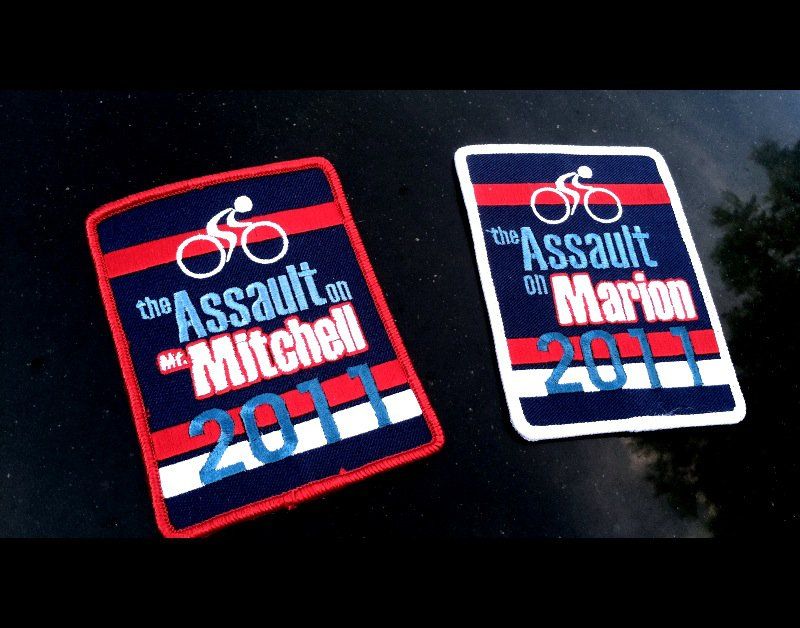 I'm not really sure what it is going to take to prevent me from giving it everything to get to the top. I just don't know. I do know that I have to stay focused and keep all the rain soaked negative mental thoughts out of my head. Must stay positive. Cause, once you check out of the ride mentally, it's really hard to keep going, even if you still have it physically.....
I can do this. I will give it all I have plus some to finish this ride. Pray to the cycling gods to keep my legs strong and cramp-free!!