This morning Andy and I met Neal and Barry at the Pinnacle Ridge overlook to take a leisurely recovery ride up to Richland Balsam on the BRP.

Very nice morning! Temps were in the mid 60's when we started around 9-9:30am...

Despite having some serious butt pain yesterday, I did ok today. Andy changed the saddle on the Ruby to something he had laying around and it was ok...I think I just need to get the butt used to this saddle. Either that or find a seatpost with more setback so I can use the Bontrager saddle.

Anyways....Seems I always start out leading....I did this time, but I made sure that I took it fairly easy, even though I was leading the guys. Barry caught up to me in no time; we rode together for a little bit, then he just dropped me "like that". I didn't even attempt to keep up with him. I might have been able to for a little bit, but it was an 8mi climb and I wasn't going to blow up, so I let him go.

Waited around for Andy and Neal, then the 3 of us rode together to the top. It was pretty windy too and as we climbed higher, it got a bit more cooler. Not cool enough for warmers or anything, but I would not have wanted to stand around for long...

Made a couple of stops at overlooks for Andy to adjust his bike some. I needed no adjustments....just another saddle or butt.
I felt really good this morning....determined to not use the 28 cog either. I was always in at least 2 lower. Felt good in that gear too. For a change.


At the last stop Andy made, when we left, ole Neal just passed me like I was standing still...I let him stay ahead of me, not chasing. Yet. I gradually closed on him and when I passed the water spring, I turned it up a bit, as I knew how much farther I had to go. Closed that gap and passed him. Damn. That felt great because I'm never the first one to reach any summit with these 2. They always drop me. Barry was already there, had been for quite a while, not sure of the time 'cause he had no watch or computer.

Took a few pics up there; Andy talked to everyone up there, motorcyclists and the Park Ranger. He knows everyone. Since it was a bit chilly with the winds, we finally told him that we were headed back down. I set off, and just freakin' bombed down that mtn!!! OMG. That bike is awesome. It takes the curves very well. I only touched the brakes at one curve, where a truck/travel trailer was over center a bit. Otherwise, it was "go as fast as you can". I let one car pass me, but about over took them as I started descending again. Gawd, that bike is awesome!!!! No computer, but I bet I hit, minimum 45mph on the descent. Weeeeeeeeeeeeeeeeeeeeeeeeeeeee


Here's some pics from the ride:
Barry & Neal
of course....the calves
General pics along the ride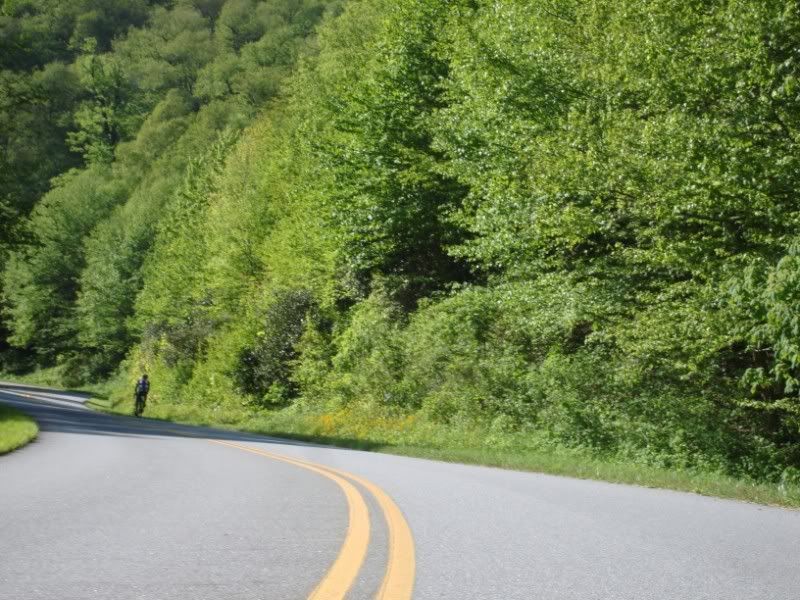 Neal says this was an 8% grade per his garmin