Well....this was a great route to ride and would have been a lot better had it not started raining about an hour into the ride. It was off/on rain, heavy at times, finally letting up after the Cullowhee Mtn climb....

I stayed with my friend Barry in Cullowhee and we got to the start early enough for him to get registered and us to get our stuff together. NealH was there also and the 3 of us started together. There were quite a few riders out to do the ride despite the forecast and the ominous clouds at the start. We get going around 9am - start off with some climbs on 107, trying to weed our way through some of the riders. After one of the short climbs, I spy a tandem! I know how they roll so I moved in quickly because we were starting a descent and if you aren't on the tail end of that when it starts, you're history! We go for a little ways and I see Neal up ahead. I know it will be hard for him to jump on, but I try to let him know as soon as I can that we are smokin' by him! He wasn't able to latch on and I just about got dropped on the descent.

Rolling terrain until we turn up Pine Creek - the first climb of the day. I felt pretty good climbing this one, though I think it had started to rain a bit by then and I had resigned myself to being wet. I lose the tandem on this climb too. Hell, I lose everyone on climbs. Not that I'm dropping them - I always get dropped! I probably could have kept up, but would have blown completely up in doing so. I'm climbing really well though, not breathing all that hard and behind me, I hear this really loud breathing! I mean, huffin' n' puffin'!!! I thought the guy was gonna die the way he sounded.
After a short descent, pass by CMR and I know there's one more little climb on Pine Creek. It wasn't bad either. Next up was the awesome descent down Walnut Creek! The rain had made the roads wet and even though I'm pretty confident descending - I take caution when on wet roads. Still, I hit 51mph down WC on wet roads! Damn, bet I could've come closer to 55mph if the roads had been dry.

At the bottom of Walnut Creek, there was a volunteer standing off to the side...I didn't pay any attention to road markings and he didn't give any direction as to turning either right or left. I knew the next climb was Ellijay, so I took a right. Wrong. I was supposed to have taken a left. Maybe if I had, I would have seen a rest stop too. I was looking for the rest stop at Hwy64/Ellijay Rd...there wasn't one! I thought "what the hell?" cause I had about 3/4's of a bottle left for the climb up Ellijay. Not really a problem because I sometimes dump the water on climbs, especially if it's near the end of a ride. (Ellijay is the last climb on the Ring of Fire - so I do dump the water for that psychological edge cause it's not far from the cars once you reach the top). So, I'm stopped at the waterfall where I always stop to take a picture, get the picture and what do you know...here comes Neal and Barry! I ask them where the hell they came from because they had dropped me on the Pine Creek climb. Found out that I missed the turn then.
Oh well. Ellijay wasn't that bad of a climb either, but I was soaked and had a bit of water sloshing around in my shoes.

Reach the crest, refill the bottles and start the descent down Tilly Creek. Good grief I was so damn cold. I was so ready to bail, but didn't. At the bottom of TC, made the right turn to head up to the Cullowhee Mtn Rd climb. I think I was zapped by then. Reached the point on CMR where I start the interval for the climb and I knew immediately this was not going to be a good climb. My speed just kept falling. I tried to go harder, but just couldn't. It sucked. And it poured down at times. 9minutes slower than my last time climbing. I think the rain, cool temps, totally wet clothes didn't help either. Descend this to Pine Creek, refill the bottles at the next rest stop and begin climbing again. Only about 10mi more to go, but I'm beat.

The last part of the route from the rest stop to Hwy64 was rolling and I didn't think the climbing would ever end. The mental game was lost now. Every time I saw any kind of upgrade, it was just a struggle mentally to get over it. I told myself I never wanted to see another climb. Ever. I was sick of climbing. And, what the hell am I doing 2 weeks from now?? AoMM. Great. Mental attitude was shot. But, finally reach Hwy64 and had some great riding, one small climb, the rest pretty much descending. Finally get back to the start as it begins to rain ever so slightly again.

Barry & Neal were already finished when I got there. My time was 4:50hr for 60mi and 7000' climbing. Not what I wanted (time-wise), but considering the weather, I guess it's ok. If there's one thing I wish for - it would to be able to climb like these guys. I get dropped on all the climbs. Damnit. I'm gonna work hard this summer to get this last 12-15 pounds gone and hopefully that will help. Other than my sucky climbing and the rain - it was a great day/ride/route. I'd love to come back and do the ride again sometime this summer....

Pictures....

Barry with his stash of food (he carried a pack of nabs, Payday candybar, a Powerbar and who knows what else!)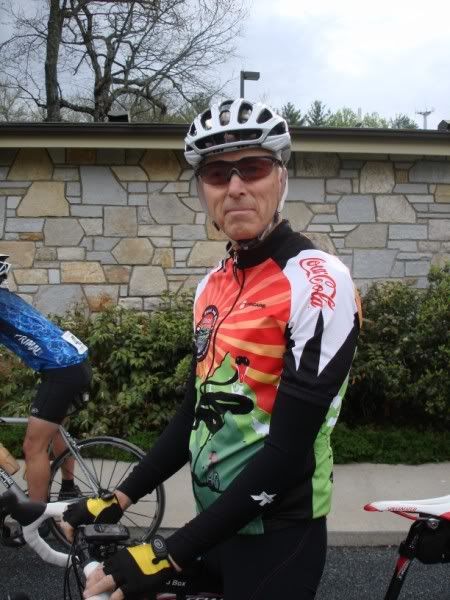 Of course, my photos would not be complete without pictures of Very Nice looking calves (Barry's)

:

Just pictures along the way...

Ellijay Valley: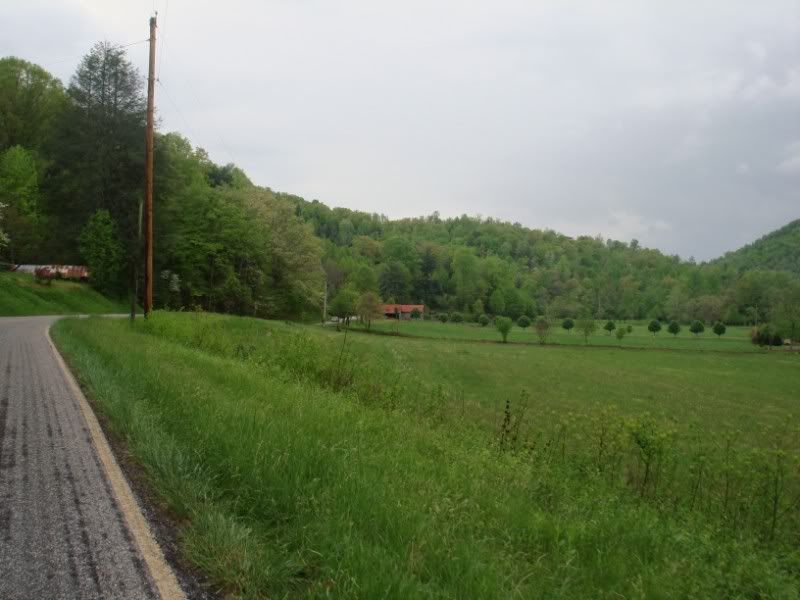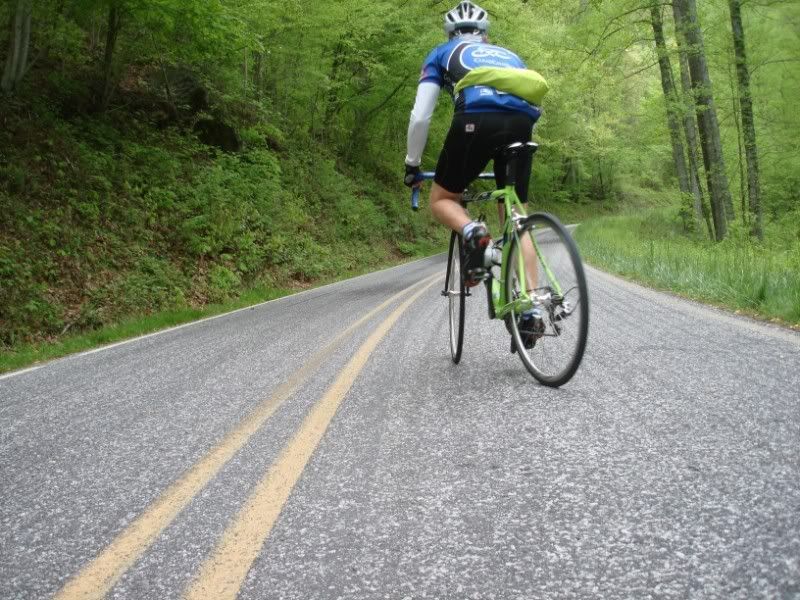 From Cullowhee Mtn Rd.