Before I get to Saturday's Sufferfest, I had a nice ride Friday afternoon after I finally got to the Sylva/Cullowhee area. I meet another friend, Barry, at his place and we did a shortened version of the Caney Fork ride - it was 34mi and around 1500' of climbing. This is another favorite route of mine up there. Hell, I think any ride up there is my favorite. We took it fairly easy on the way up since this was the majority of the climbing. Once to the turn around point, we took a short break and headed back. This is the fun part! It's a false flat of 1-2% on the way up, so what goes up, must come back down....aswesome!!!
Ring of Scott Sufferfest
So, I'm up here at Andy's for the weekend and I told him that I wanted to ride Ring of Fire today and maybe could we also do the Buck Creek climb?? I don't know what the hell I was thinking. This was indeed a climbing sufferfest! But, I survived. And, I did a hell of a lot better on the Ring of Fire route than the last time I did it a year ago.

Anyways, it was a beautiful day here in WNC - probably mid 70's, sunny skies. Neal, Andy, and I started out with the Ring of Fire route - the first climb was 4.4mi at an avg grade of 8% with some steeper sections thrown in at the switchbacks. I climbed this almost 12min faster than last year. Short decent, then another short climb up Pine Creek and then the fast decent down Walnut Creek. I hit 51.8mph coming down WC!! w00t!!! Awesome decent. I never saw the guys much for any of the climbing...as usual, I was dropped. No big deal really. I've learned to climb at my pace and not try to keep up with Andy. If I had done that, I would've blown up pretty quickly and not been able to do as well as I did.

From here we headed down Hwy 64 to the gas station for refueling. Once done here, headed out to tackle Buck Creek. Don't know what the problem was...maybe I didn't drink enough (but I had 2 bottles to this point), but my guads started to cramp. Wish I could figure out what is causing this. I don't always cramp either. And, I never have to pee on rides like this... Buck Creek is a 9.3mi climb, dunno avg grade. Suffice to say, it wasn't easy, but not a back breaker either (unless you happen to be cramping).

After Buck Creek, we descend down Hwy 64, making stops at Dry Falls & another stop at Cullesaja Falls for pictures. Make another stop at the gas station, more food/water, then head out for the last climb...Elijay. By this time, I'm not feeling great. I'm wondering how in the hell am I gonna do this climb?? HTFU is how. Much slower for this climb, stopped a couple of times to let my legs try and recover a bit. Finally! Made it to the top, where the guys were waiting on me. Again. Then another fast descent down Tilly Creek. Another awesome descent...I chanced a look at one point and saw 50.x mph! Then a couple of miles back to the cars.

Dunno...that's all I can think of right now. I'm pretty damn tired. Still have some cramping in my legs, depending on how I move...oh yea, I was just reminded that I forgot the amount of climbing & distance....8400' climbing and 66.7mi. (pretty much copy/paste from the forum ride report).

Here are the guys before the ride..
somewhere on Cullowhee Mtn Rd...headed to the area in the background...the road is WAY up there.
the guys at the end of Walnut Creek descent
next couple from Dry Falls
waterfall on the Elijay climb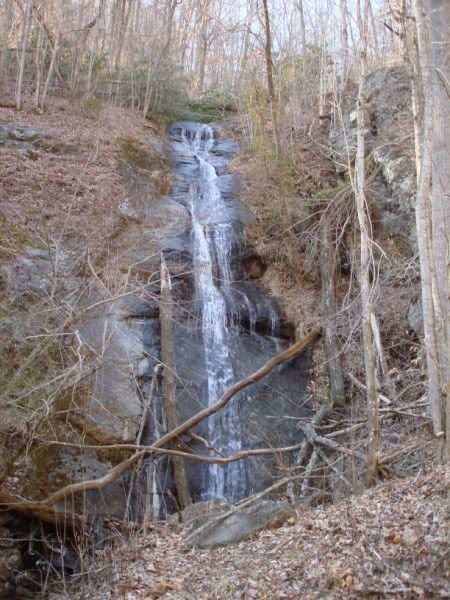 the guys setting the pace (again) up Elijay
**Edit** pictures taken by Andy: