After
a pretty good night's sleep at Andy's, I got up too damn early today!!! Birds were chirping and it was light outside...must've been dreaming because I was talking to Andy's daughter and I asked what time it was...she said it was "ten till ten". I need to get up!! We're gonna ride before it rains today.

So, I hop outa bed, get a shower, get dressed and head out to my car for my cereal. When I get back inside, Andy is up and asks why am I up so early???? Ummm, I dunno and tell him about the dream. LOL. After eating, I get a bit sleepy, so I go to the living room and try to nap. That doesn't last long cause he says we need to go ride if we're going to....the rain is coming!!


OK...the first few miles of the recovery ride are fairly flat, then we start climbing. My legs hurt. They burn. They scream for me to stop. No. HTFU legs. Lots of climbing he tells me...about 10mi of it. Great. Just great. Just what I was asking for. Why do I keep doing this??? 'Cause. I love to ride in the mountains. It might be hard, but it's a challenge and I like challenges. I don't give up. None of the climbing I did this weekend killed me (obviously, as I'm posting here) - it just made me stronger.

After a bit of climbing and descending, we approach another climb that the local riders call The Wall. OMG. Hard. No, wait. Hard doesn't describe it. Brutal may be a better description, especially after the riding on Saturday. Well, Andy tells me, before we get to the climb (near the sign that points to the right turn), that I need to relax and settle into my pace as this climb is pretty hard. That it continues on around the curve at a pretty steep grade then eventually gets a bit easier. Steep. Yea, right. Steep my ass. That was steeper than anything on Cullowhee Mtn I think. Hard? Yes. But, you know what? I did it. I didn't stop pedaling. I don't think that I could have done that climb last September or anytime last year. I've come a long way since then. Still have a ways to go, but I'm getting there, climb by climb.

I watch Andy climb this as I'm trying to find my pace. He looks like he's hunkered down over the bars, pedaling for all he's worth. Then, he's gone from my view. He climbs so effortless it seems. Maybe one day, I'll be able to climb at as good as he does on a bad day. Finally reach the crest, where he is waiting on me. It's then that he tells me the climb is something like 12-15%!!! I'm so glad he didn't tell me prior to the climb. I would have had it in my head that I couldn't do it. But, I did and we continued on...

We finally reached the Blue Ridge Parkway after a few more climbs and passing the Balsam Mountain Inn. This place is supposed to be a really nice place to stay. I could see staying there and doing some rides from there in the future. So, on to the Parkway. Now, he tells me, this is a 2mi climb of 7% up to the first overlook. OK. Fine. I can do this. He paces me up the climb pretty damn good, just under my threshold power, until I HAVE to adjust the shoes. They are just too friggen tight and making my feet tingle. I get gapped then because he doesn't let up. Oh well. That's ok, because I just kept my power where it had been while he was pacing me and climbed. And climbed. And climbed. No breaks in the climbing until I reached the overlook. Very nice. Can't tell you how proud I am of my self for all I did this weekend.

We head back towards the cars and go down a whole lot quicker than we came up! The descending makes up for all the climbing!! I love descending!! We see a couple of people that we rode with on the September ride and stopped to talk to them for a bit. There were quite a few riders out this morning. Andy knew them all I think! After chit-chatting for 10min or so, the four of us head back towards town. Load the bikes up, back to his house, take another shower and then we go get some lunch. The bottom fell out of the sky during lunch! Very heavy downpouring of rain. We timed our ride just right this morning!


After lunch, we said our good-byes, I went and took pictures (
I forgot to bring the camera on the ride this morning and I wanted some pics of scenery on at least one of my rides). So, after we finished and I was headed home, I drove the route and got pics.
, then started the 5hr drive back home. I SO need to move closer to the mountains. Or just buy another bike to leave out there and see how much it costs to fly into Asheville!

So, here are the pics from our route today....

Waterfall along the ride:
Some climbing and cool rr bridge: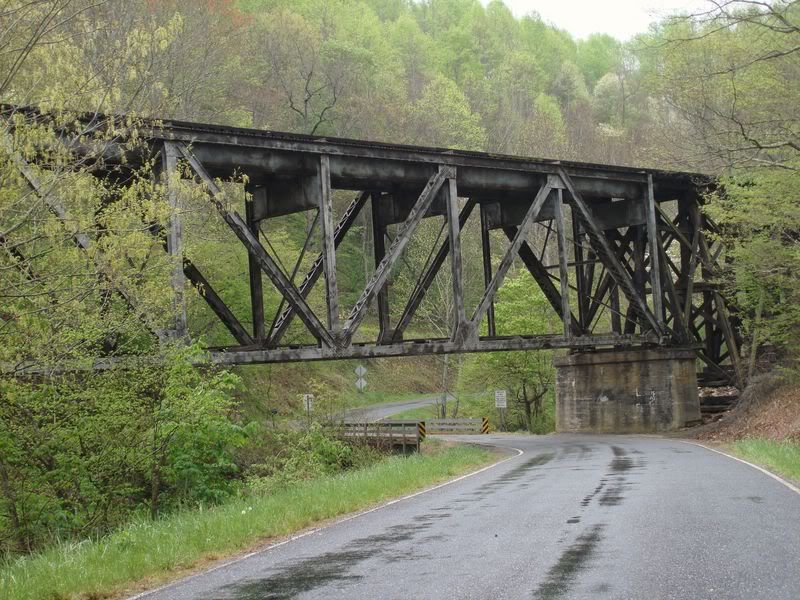 Church along the route: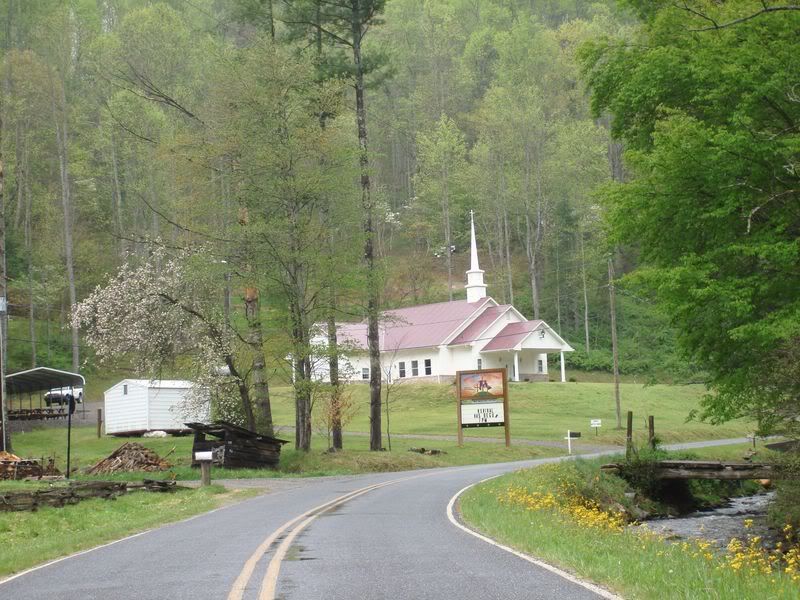 Harder climbing to come: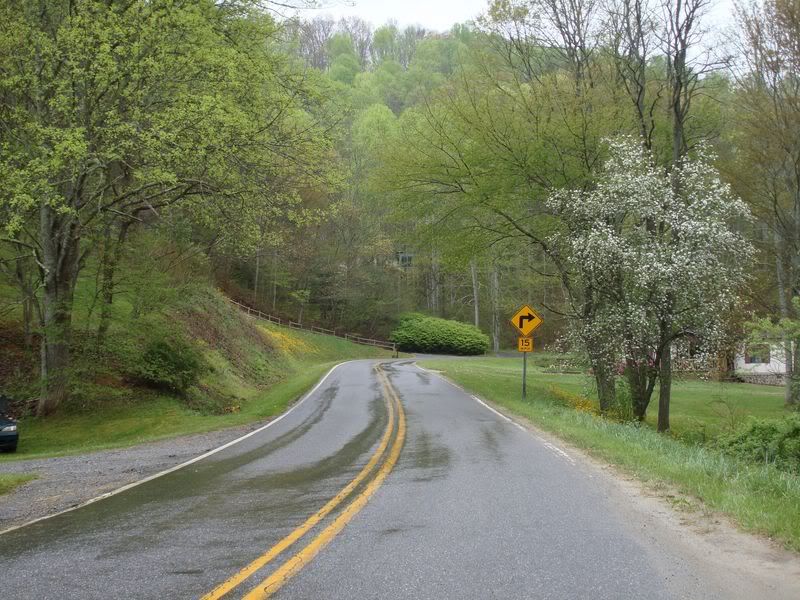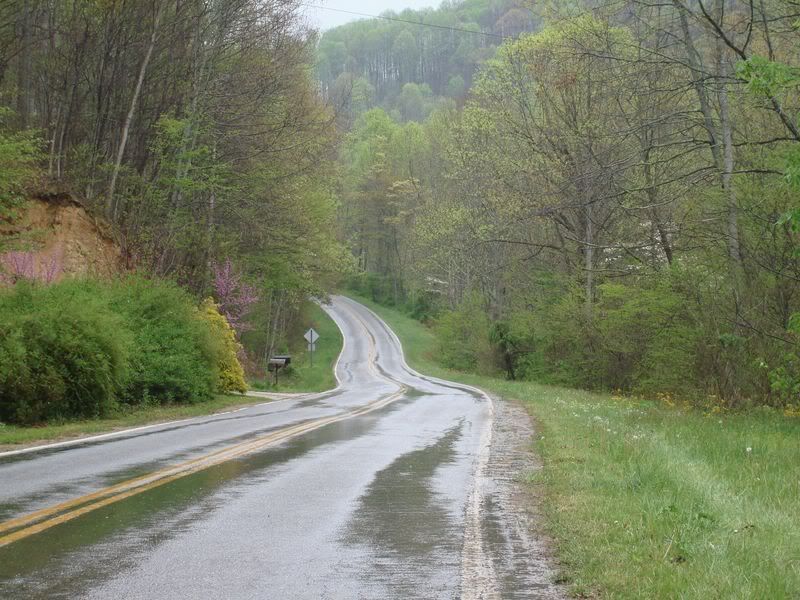 Previous picture is the start of The Wall. The following pictures are midway up and another point on the climb.
After that, The Balsam Mountain Inn, Balsam Gap on the Blue Ridge Parkway, some of the climbs on teh BRP and the overlook turn around point.