Last night (really evening) I got home from work and thought about going out for a recovery ride. Checked the radar for my area and it only looked like some spotty showers possible; and those might not even happen at all or in the area I was going to ride. So, after hemming & hawing about it for close to an hour, I decided to go on out. What's the worst that could happen? Get a little wet??

Loaded up the bike & gear and drove about 3mi from my house to the ride start. OK. You ask, why did I drive? Because this road I have to take is almost as bad as Hwy 42 as far as traffic. People pass you with oncoming cars, horns get blown, and I really don't like riding on this road. At the starting point, I have everything ready to ride and what happens? I hear and feel a couple of rain drops. Damn. Oh well, I'm riding, it won't last long.

Pretty windy out and I can ride this route into the wind for halfways and on my return I should have a nice tailwind. Would you believe I actually had this happen on this ride? Most of the time, the wind will switch around and I'll have headwind the whole ride. For a change, not this time. I figured I was going to get wet when I stopped to take this pic...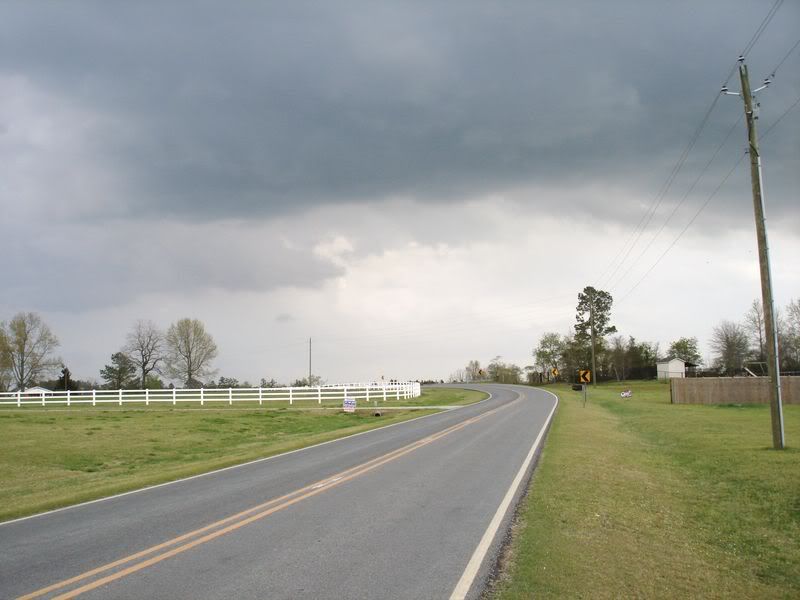 And, sure enough, about 5 minutes later, a couple of drops, then a bit heavier, then a downpour. There was a little church just up the road, so I pulled in there and waited under the picnic shelters. It only lasted about 10 minutes, but it was really heavy. Towards the end, I looked across the road and saw a rainbow...
So, back on to my ride on wet roads this time. And, dangit, I had just cleaned my chain after the rainy intervals on Monday. Oh well. I felt really good riding yesterday evening. That rest week last week was just what I needed. All the little climbs I had on this ride were pretty easy, I took all of them out of the saddle, still in the big ring. Six months ago, I would never have been able to do that. Discipline & patience are paying off.
No riding today (Wednesday), but will go to the gym after work. I need some serious upper body strength! I can't even do one freakin' pull-up. My son has a pull-up bar in his bedroom doorway and he does them all the time. I didn't get anywhere with that thing. He's got these little Popeye bicep muscles! So cute!
Tomorrow (Thursday), I'm probably going to go into work late because I need to get these 30s intervals done. It looks like rain after about 10am and will continue for the rest of the day and into Friday and Saturday. I don't really want to do them in the rain, so before work is about the only time left. This week will just be a learning phase for these intervals. Next week, I'll try to do them a little better.
Had plans to go to Crowder's Mtn for the weekend and ride the metric route on Saturday. With the weather the way it is, looks like I might be going on Sunday instead. And, it's only 7 more days until my first TT of the season!